Bluebells Blog
Monday 16th October 2017
Meet the Burrow's New Friends!!
We have had lots of New friends join us here at the burrow over the last few weeks - and we still have many more to arrive. So we thought we would introduce some now before we get too busy.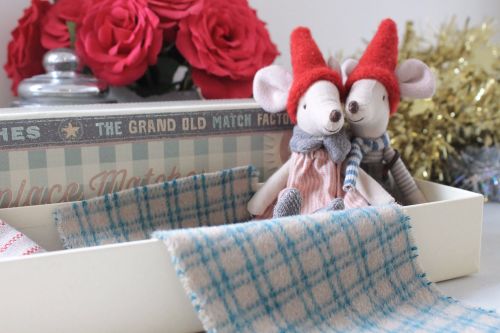 Firstly, Christmas Maileg Mum and Dad mouse with matching hats in a cozy long matchbox bed with bedding. They can't wait to start getting ready for Christmas.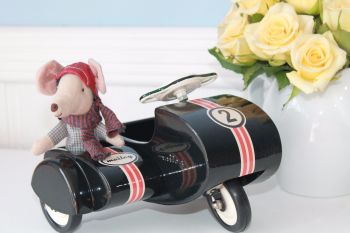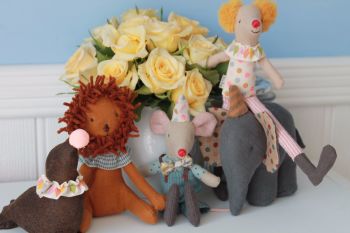 Big brother mouse is really excited about this fancy black scooter with side car! And we have had lots of new additions to our growing circus family - they now have their own page under Maileg. Our favourite is the clown mouse on stilts . . . . and well all of them really!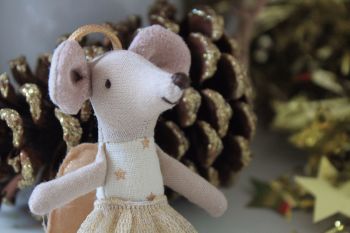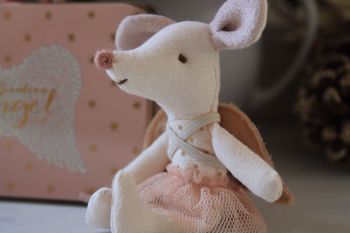 We have some pretty little angel mice who have flown in, including this baby angel mouse and guardian mouse who comes with a pink angel suitcase to help keep all her fairy things in.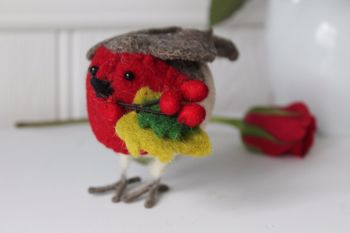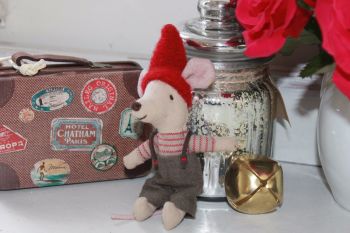 We love our new red robins from Fiona Walker which you can find in our Christmas shop as well as this cute little Christmas mouse with his traveling suitcase.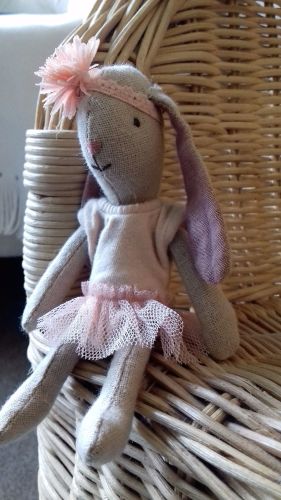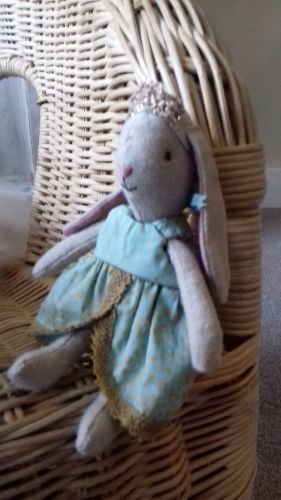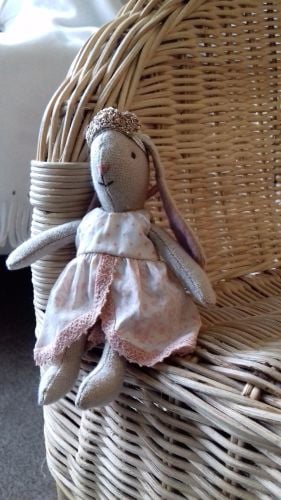 And finally we are so pleased to see some new micro/mice clothes in the Maileg range and there is still more to come next month - which one is your favourite?
BBx
Monday 1st October 2017
Camping Trip with Grandpa Mouse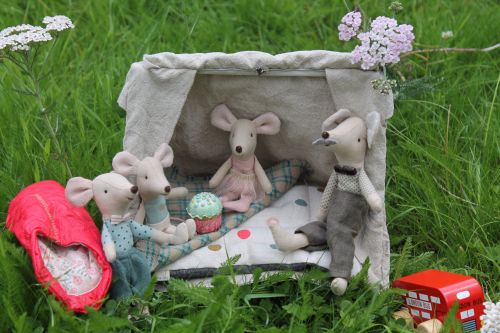 Grandpa Mouse was very impressed how easily the tent went up, giving him lots of time to give the little mice a snack before going on lots of adventures.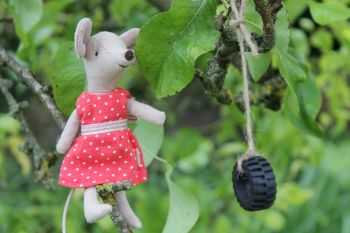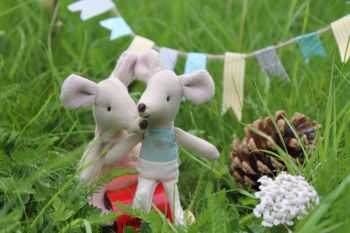 Big sister mouse enjoyed climbing some trees and swinging on an old tire, while some of the younger mice took turns riding on a toy red bus!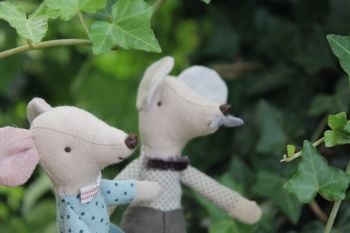 Grandpa Mouse has taken big brother mouse on a bug hunt - be careful boys!!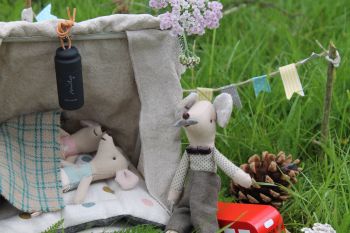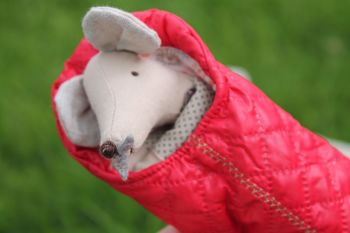 After a long day Grandpa Mouse puts some of the younger mice to bed, making sure to turn on a night-light for them. Looks like Grandpa mouse is getting ready to go to bed also!!
night night, sleep well x
Wednesday 29th March 2017
A couple of weeks ago Bluebell went to visit "Hazel" a little rabbit she is sponsoring at Foal Farm in Kent. Like many rescue centres they do amazing work with all the animals who they look after. They have a "non destruct policy" and if no suitable home can be found for an animal, Foal Farm provides them with a life-long sanctuary.
Recently Hazel lost her sister and has been paired up with another rabbit called Blackberry - and they are getting on really well.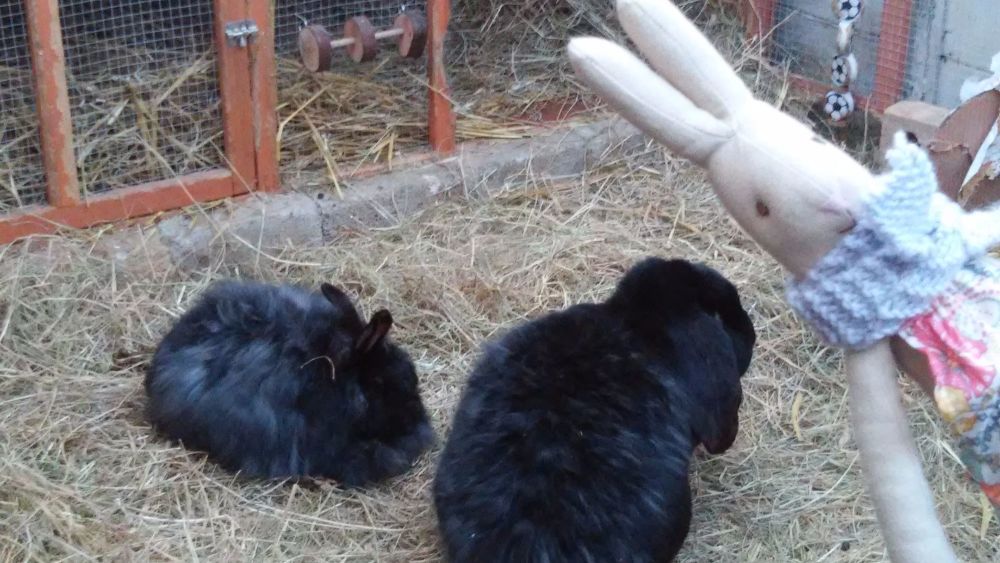 Hazel is the smaller rabbit who doesn't look very impressed with Bluebell's visit even though we brought lots of presents for her and all her rabbit friends! However her new friend Blackberry seems a little more interested!! - maybe we should spencer him as well??
BBx
NB: We are one of a few people sponsoring Hazel as it costs so much to look after all these animals, just the cost of one sponsorship would not cover it! It is a great alternative to birthday presents or if you don't have time in your life for a pet at home.
Saturday 4th February 2017
I can't believe we are already into the second month of 2017!! (maybe this is a sign of getting older?)
After a VERY busy Christmas here at the burrow, we were hoping for some "quite time" in January however the winter sale kept us on our toes!! Bluebell had a lovely time at a Trade Fair and spent quite a few nights enjoying looking at some lovely new ranges before putting in all our orders (you can see some of the photos from the trade fair on our Facebook page).
Already this year we have had some new arrivals from Orange Tree and we still have some more items joining us later in the spring - we love the Peter Rabbit new additions to the range - what do you think?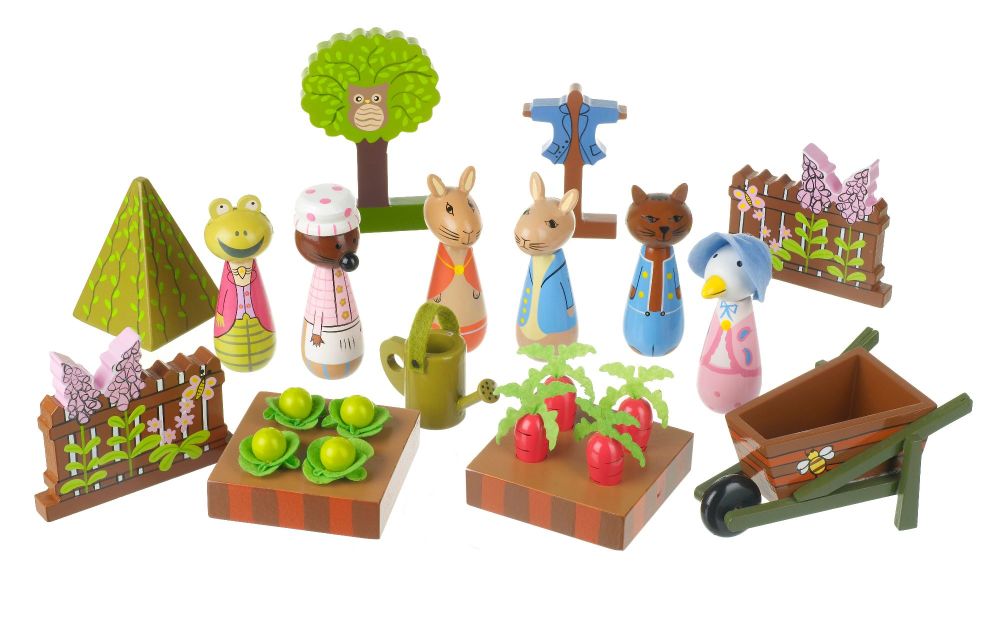 We are looking forward to the new arrival of some Moulin Roty friends later this month including a new range called "Les Petits Dodos" and some new faces to the Grande Famille friends (Walter Dog, Agathe Cat and Perlette Frog).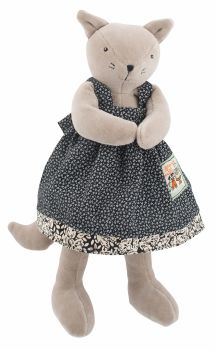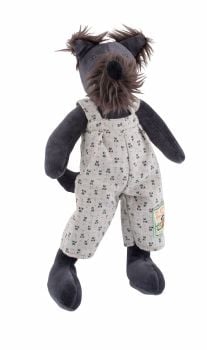 We have placed an order for some lovely Maileg items from the new SS17 range. The tooth fairy (girl) mouse should be flying back into the burrow shortly, as well as the new MY rabbits joining us for the first time - we hope you like them as much as we do!! More from Maileg in another Blog shortly.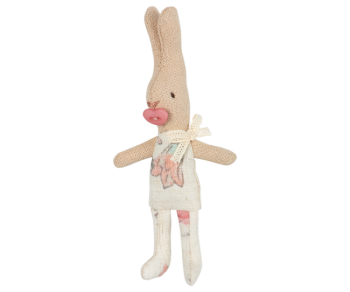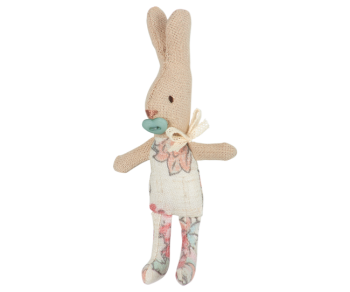 Enjoy the rest of the weekend
BBxx
Sunday 23rd October 2016
The mice are all very excited, as the circus is coming to the burrow!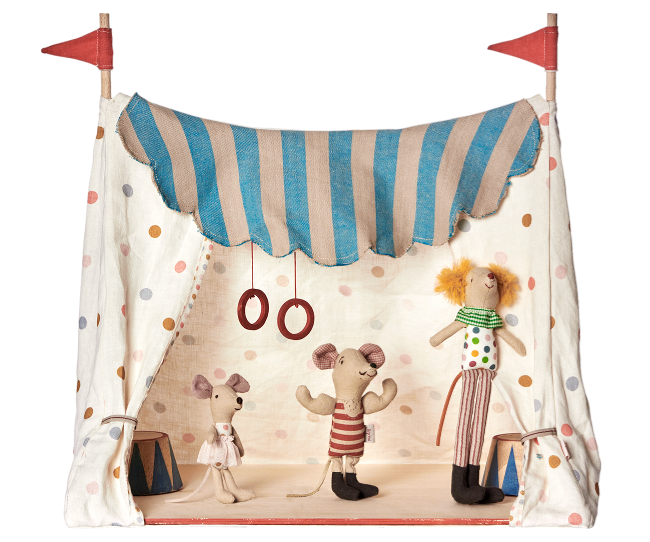 They all want to be part of the show and are practicing all their moves.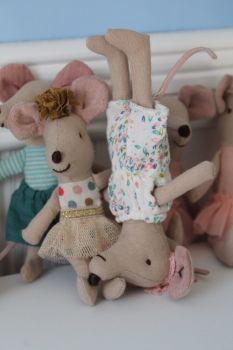 Big sister is perfecting her hand stands with a little help from Christmas Little Sister. But wait. . . . the two Little Brother mice are doing a head stand together!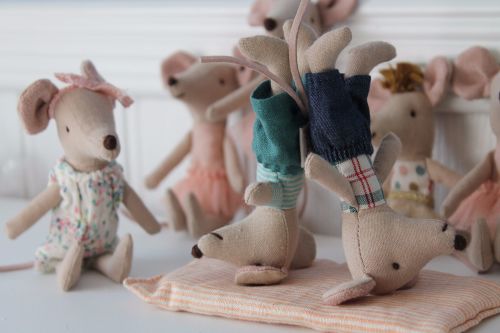 . . . . . . . and now they are resting Christmas Little Sister on their head!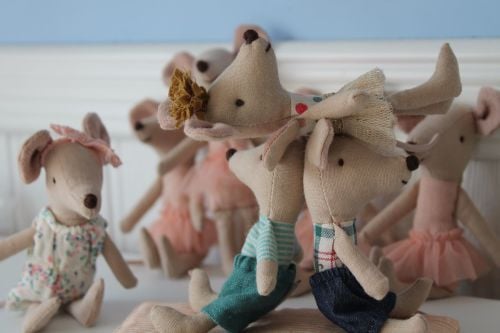 Poor big sister mouse can't believe her eyes . . . . . . maybe they all could be part of the circus show when they arrive?
The Brand New Maileg Circus will arrive in the next couple of weeks, keep watching Bluebell's Facebook Page. If you want to keep up to date with new arrivals you can "LIKE" Bluebell's facebook page and sign up to Bluebell's news letters.
BBx
Saturday 17th September 2016
Sorry it's been a while since we have done a blog, the summer has gone by so quickly!
Some of us from the Burrow spent a few days in Devon and had a lovely time. Firstly we visited a butterfly house and met lots of new friends.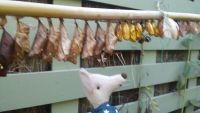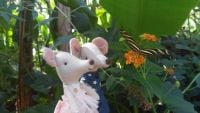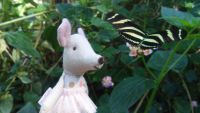 But we spent most of the time on the beach enjoying the sun and eating!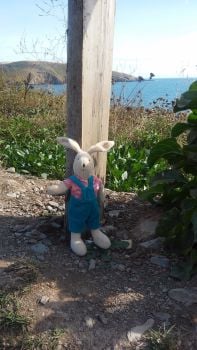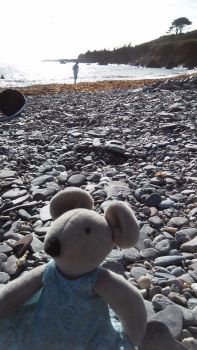 And finally we went to a trade show last weekend to see the new range from Maileg for this Christmas , and we added a few more bits to our very long order!!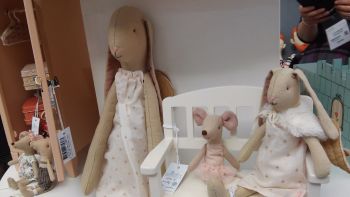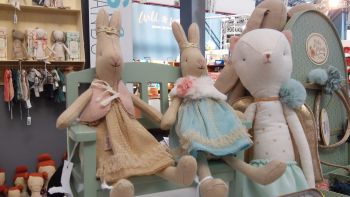 Can't wait for it all to start arriving next month. We will post on Facebook to let you all know when it comes.
BBX
Monday 18th July 2016
The First Year has gone by so fast . . . . .
It has already been a year that Bluebell's Burrow has been running and we all feel really proud and grateful to still be here! When Bluebell first opened up her burrow she was really nervous that no one would visit or give forever homes to her bunnies and mice. But over the year we have made some lovely new friends who keep coming back to buy presents and gifts to those special people in their lives.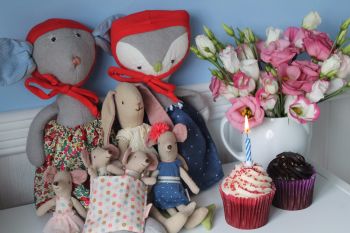 We are still learning as we go (generally making it up as we go might be more like it!!). Neither Bluebell or myself have any experience in setting up websites or selling but as long as we are still having fun and people like what we are doing we will carry on!!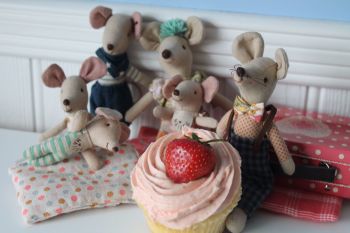 We have already shared with you all on Bluebell's Facebook page some of the exciting new Christmas range from Maileg (we love, love, love it all!!) and Bluebell has already completed her order and is looking forward to meeting all the new Maileg Mice and Bunnies!!!.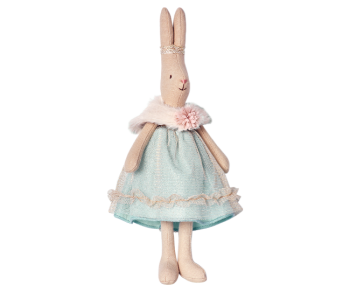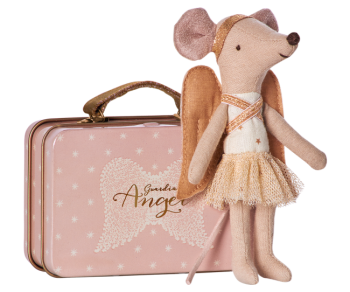 Bluebell has also been busy looking for new friends to join the burrow and has just invited some new animals who should be arriving later this summer. We can't wait to share the news when they arrive!! (keep watching Bluebell's Facebook Page for updates).
And lastly we would just like to say a BIG THANK YOU to you all, for visiting the burrow and our facebook page over the year, for buying from us and coming back.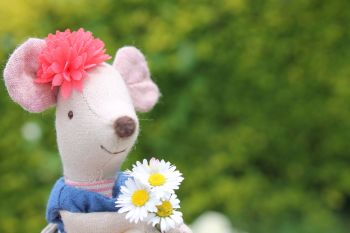 We could not do it without you.
BBX
Sunday 22nd May 2016
We are delighted to announce the arrival of Orange Tree toys to the burrow!!
The mice are enjoying playing with lots of the new toys especially the red wooden train! And the older rabbits are trying to learn how to skip with a rope . . . .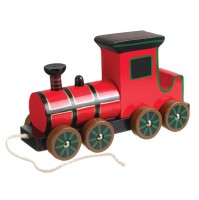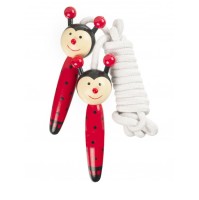 We are also waiting for a few more bits from Orange Tree later this Spring and will post them up on Facebook when they arrive, including this really cute pull along wooden mouse. We can't wait.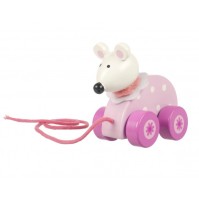 Bluebell is also looking at inviting one or two other new lines to the burrow later this summer - so keep watching . . . . . .
BBX
Sunday 24th April 2016
The New Spring Maileg Mice Have Arrived!!
We are delighted to have the new Spring/Summer Maileg Mice join us at the burrow. We have missed Big Sister who has been off visiting friends and she has brought back some new mice with her!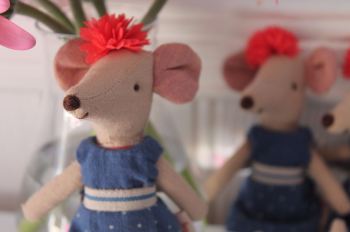 Big Sister comes wearing this seasons navy dress with a ribbon around her middle and a pretty red flower on her head. We love her new look!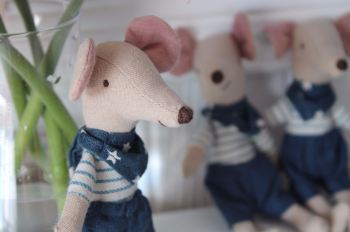 Big brother is hoping for lots of lovely sunshine this summer so he can go out in his sail boat along the stream by Bluebell's Burrow. He is our favourite this season, and we just love his navy neckerchief with stars on to keep him warm while out sailing.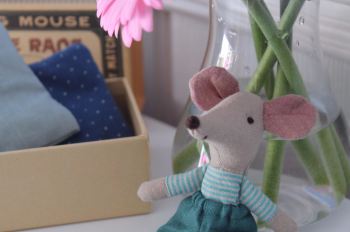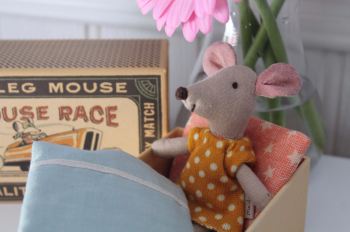 Little sister and brother have cute duck egg blue duvets to keep them cosy warm at night - a lovely touch this season!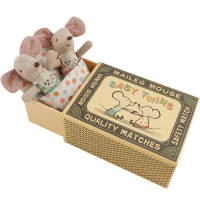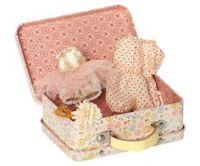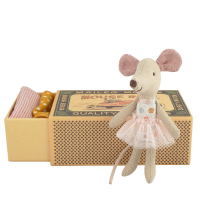 We are hoping to get Maileg Twins Next Month! And another litter of baby girl mice ready for re-homing. As well as a few other treats. We will post any new arrivals on Bluebell's Facebook, don't forget to "like" Bluebell's Facebook page to keep up to date, or sign up for the "Newsletter" at the bottom of the home page.
BBx
Monday 1st February 2016
Welcome Hazel Village
We are delighted to introduce to you all our new friends from Hazel Village!
These adorable woodland creatures have come all the way from Brooklyn, New York and are ethically hand-made from organic cotton fleece. They each come with a "Story Card" attached around their necks, with a charming little insight to your new friends character. They love to dress up and go on adventures and are looking forward to becoming your life long friend
Firstly we have Lucy Owl who has developed a regime of upper body strength exercises.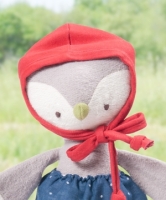 Jeremy Owl who loves to paint portraits of his friends usually on pieces of bark or wood.
Catalina Mouse really loves her red bonnet. When she finds nice acorns she uses her bonnet as a bag!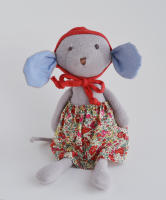 Emma Rabbit enjoys teaching the other animals special May Day dances that she has either learnt or made up herself.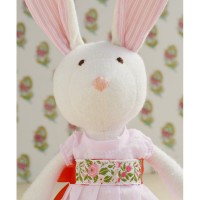 We also have lots of cute little outfits for you to choose from to dress up your new friend, each coming in a little gift box.
The have made lots of friends already at the burrow and are starting to get over their jet lag now, so they shouldn't keep you up at night!
BBx
Tuesday 10th November
Bluebell has been very busy over the last few weeks!!
She has been welcoming lots of new friends to the Burrow such as the NEW Maileg Ballerina mouse and the New Big Sister mouse. All the Micro bunnies and rabbits are loving the New Maileg Pram and keep asking to go out for long walks around the burrow in them! They are certainly keeping Bluebell and the mini Bunnies busy!!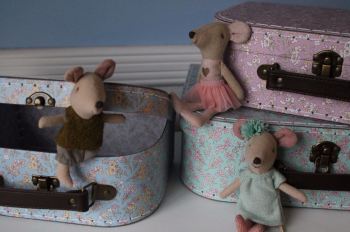 Bluebell is also really excited to welcome latest line of toys joining the Burrow from Sass & Belle, including a wooden toaster and butterfly mobile which looks beautiful next to the window.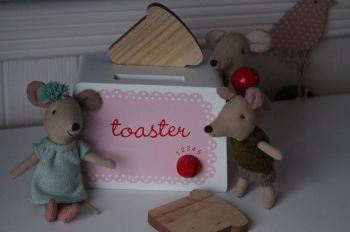 We have a couple of more items coming later this month from both Maileg and Sass & Belle so keep watching . . . .
Love Bluebell
XX
PS If you want to keep up to date with what is happening at the Burrow sign up for the Newsletter and "LIke" Bluebell's Facebook page. She often has offers, competitions and sends out discount codes with the Newsletter - not to be missed this festive season!!
Sunday 1st November
Ballerina Mouse had her first ballet lesson today, and after a few falls and dusting herself off she had a lovely time.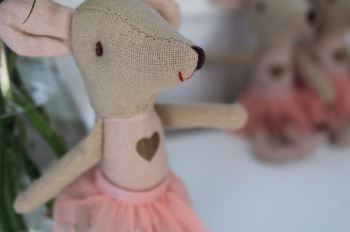 She made some new friends.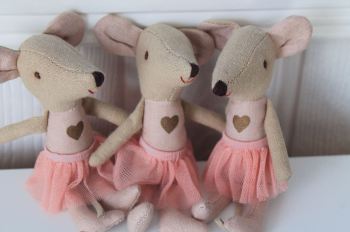 Learnt some new skills.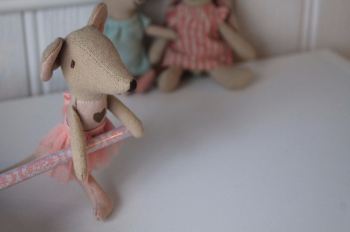 Which she couldn't wait to show her friends back at the burrow . . . Even micro bunny couldn't resist having a try herself . . . . . well practice does make perfect!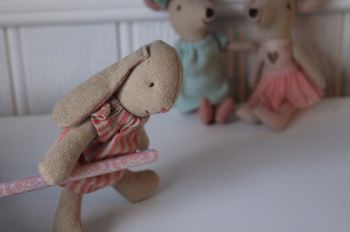 If you have a budding ballerina in your burrow, hop along to the Maileg shop page to look at our Ballerina Mouse, New for this festive season.
BBx
Friday 2nd October
Poor Monty! he has been eating the last rich tea biscuit but forgot to hide the evidence, and now his big sister is coming !!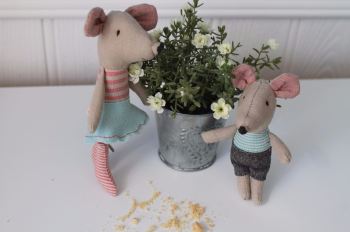 She was not very happy with him and has told him he needs to tidy up the mess quickly, but how?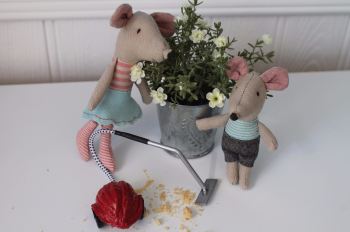 Big sister mouse was not going to let him get away with leaving yet another mess!!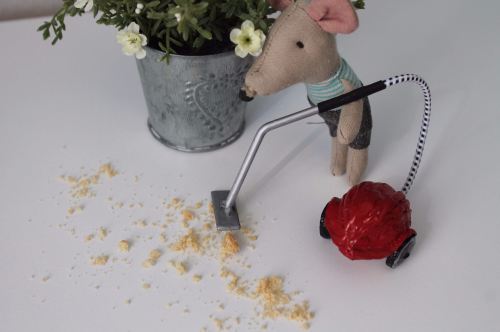 Oh well . . . . . . it's quite easy to use actually, almost done!
If your mice are a little messy hop along to our shop page and have a look at our new Maileg vacuum cleaners.
BBx
Saturday 12th September
Is it too early to mention Christmas??
Some of you may have already started your Christmas shopping or dare I say even nearly finished!! While others of you probably can't even bear to think about Christmas when its only September!! Well, which ever camp you are in, here is the first of the Christmas gifts to arrive here at the burrow, hop along to NEW arrivals to have a look for now or when you are ready to start your Christmas shopping.
This adorable Belle and Boo Christmas book is beautifully written and illustrated. It is the perfect book to help you find your Christmas spirit (for when you are ready!). A classic children's book to share with the young and young at heart for many years to come.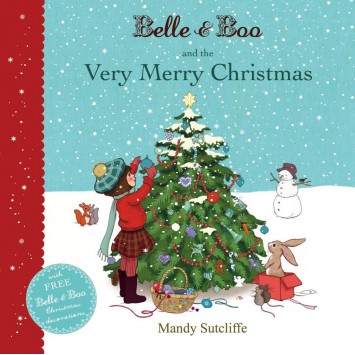 Bluebell hopes you enjoy this book as much as she does, she cant wait to start reading it to all her friends here at the burrow!
BBX
Sunday 23rd August 2015
Princess Bunnies having fun in the sun
The princess bunnies have enjoyed their time at the Burrow this summer and have made lots of new friends . . . .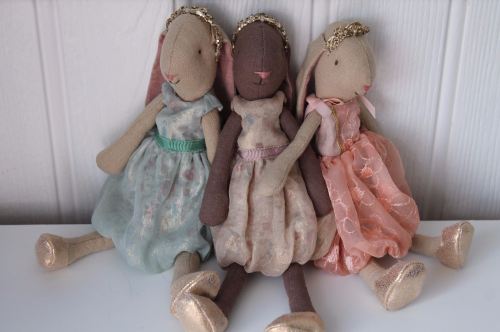 They have helped look after the baby bunnies . . . . .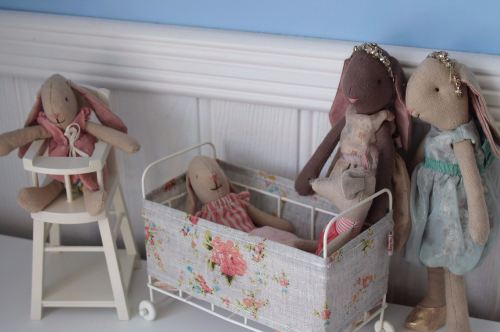 And yesterday they spent time climbing the trees by the stream, in their party dresses!! they were very lucky not to get them too dirty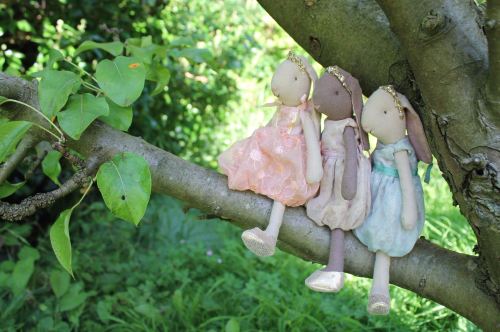 Delphine bunny will soon be leaving the Burrow to go back to her family in the New Forest, we will all miss her x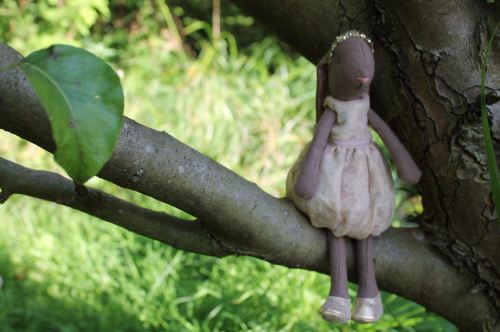 Love BBX
Sunday 9th August 2015
NEW LITTER of baby bunnies and rabbits born last week!
Bluebell and the princess bunnies have been busy all week helping to look after them so that their Mummies could have some rest this week!

They love their new cot even if there is hardly any room to move . . . . .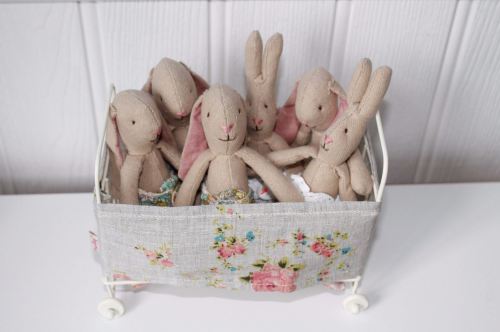 Princess Bunny has been feeding some of the babies outside in a high chair to stop them bouncing off at lunch time . . . . .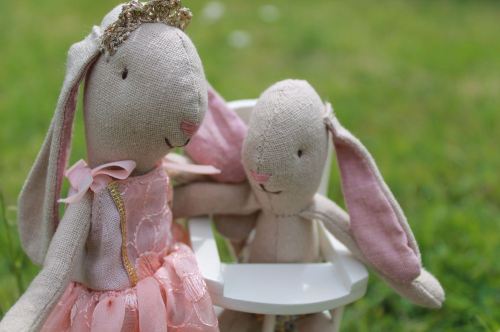 Otherwise they just tend to play with their food!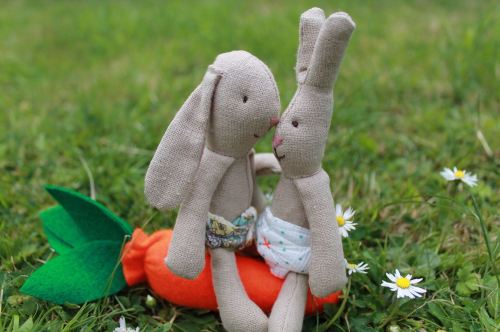 We have all enjoyed dressing them up in some lovely clothes . . . .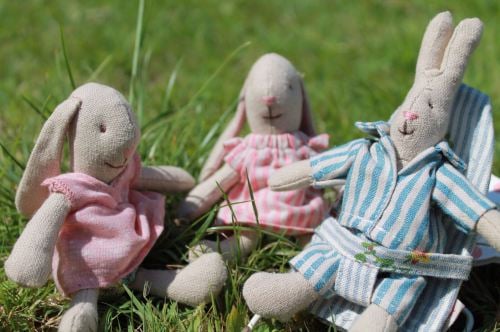 If you can offer a home to one of these endearing new baby bunny or rabbit they should be ready for re-housing shortly. They make a lovely gift, or you could keep one for yourself, all they really need is lots of love and attention.
BBx
Sunday 2nd August 2015
A Day in the Life of Little Brother Mouse, "Monty"
Little brother mouse is one busy mouse, he is always up to something!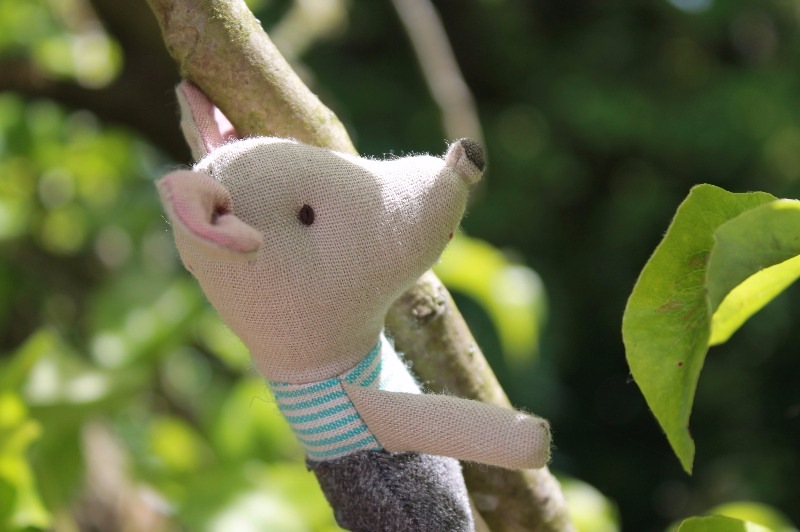 Monty enjoys hunting for bugs by the burrow . . . . .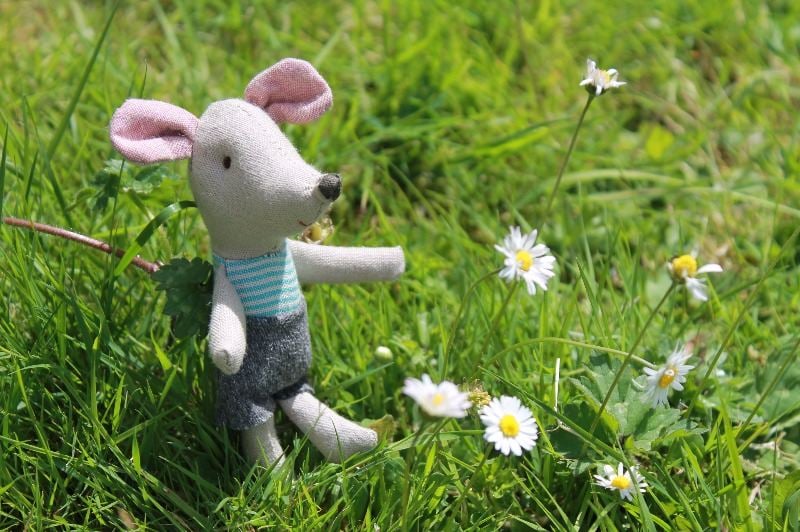 He has just made a fishing rod and is trying to catch a big fish by the stream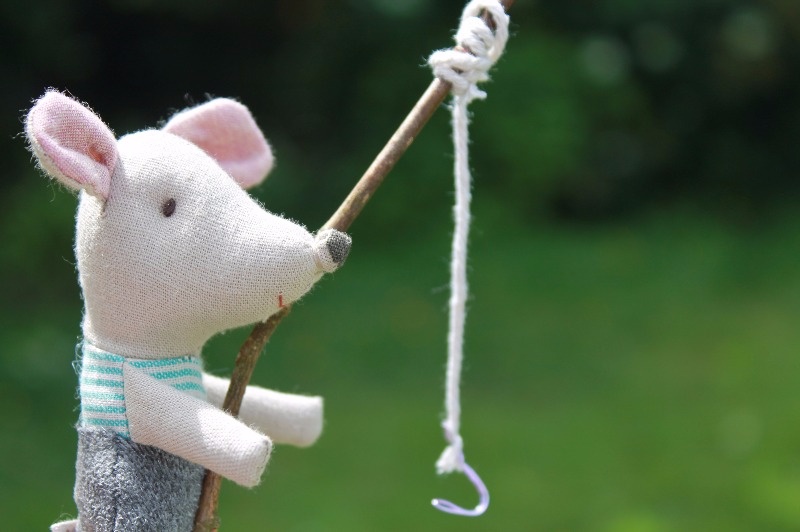 After remembering he doesn't like to eat "fish" after all, Monty decides to play "pirates"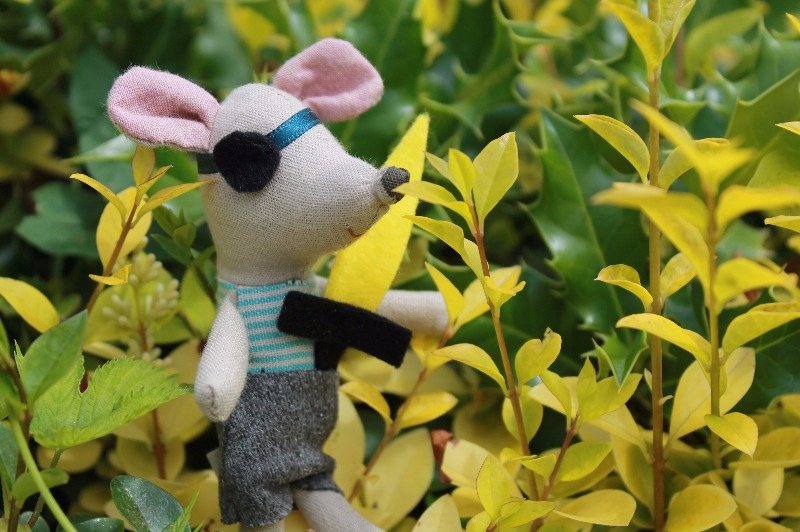 and after a long morning of playing he decides it's time for a nice nap - Monty just needs to find some shade . . . . . .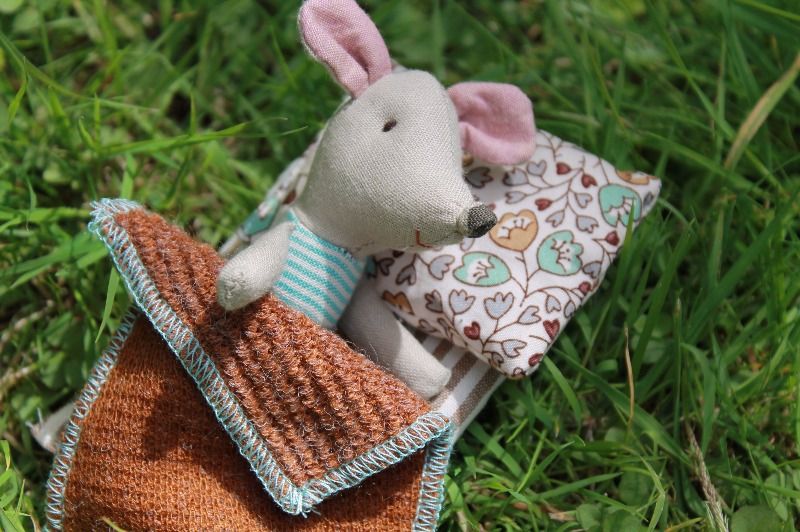 If you think you can offer a good home to a little mouse who loves to play outside all day then hop on over to Bluebell's shop and remember there is 15% off everything at the Burrow while socks last . . . .

BBx


Sunday 19th July 2015
Bluebell has told Dotty some fairy mice should be soon arriving at the burrow. Dotty is very excited and has gone on a fairy hunt.
She has looked by her tent . . . .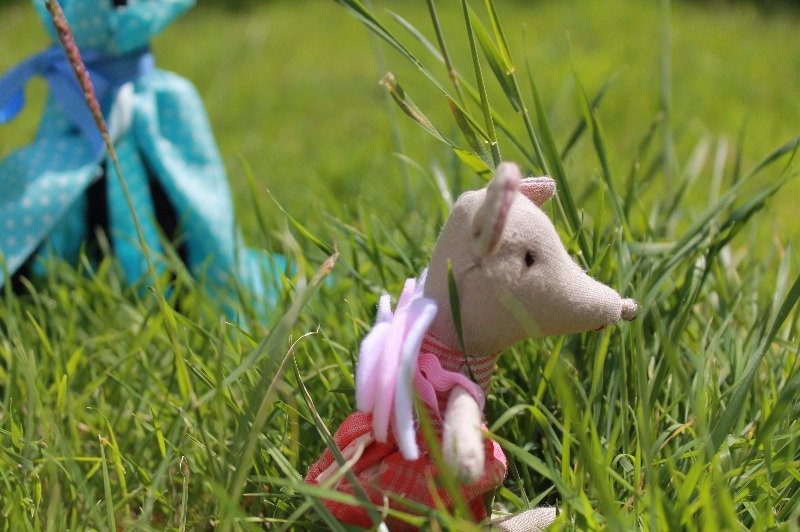 She has looked by the tall grass . . . .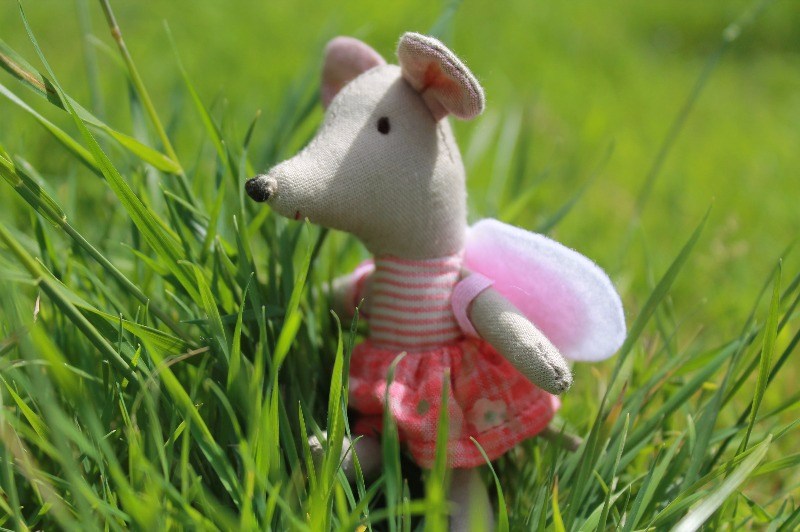 She asks her brother . . . .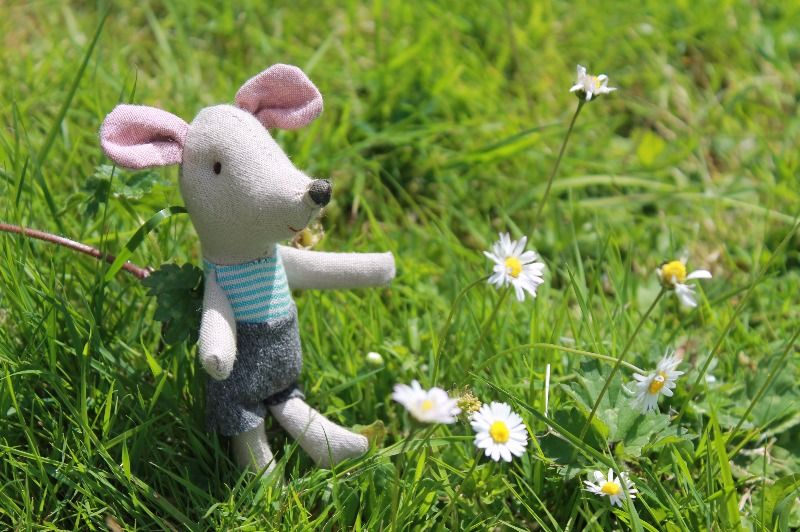 Finally she has found them!!!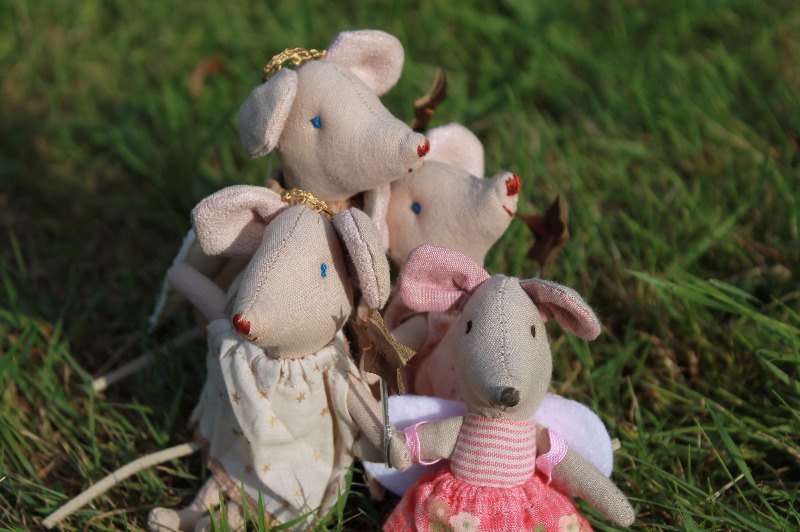 and she wastes no time in showing them her own fairy wings . . . . .
Hop along to the "Just Arrived" page to see more details on the new Maileg mice fairies.
BBx
Wednesday 1st July 2015
A day in the life of little sister "Dotty"
Dotty has been enjoying the summer now it is finally here - although this hot weather is proving to be a little too much for her!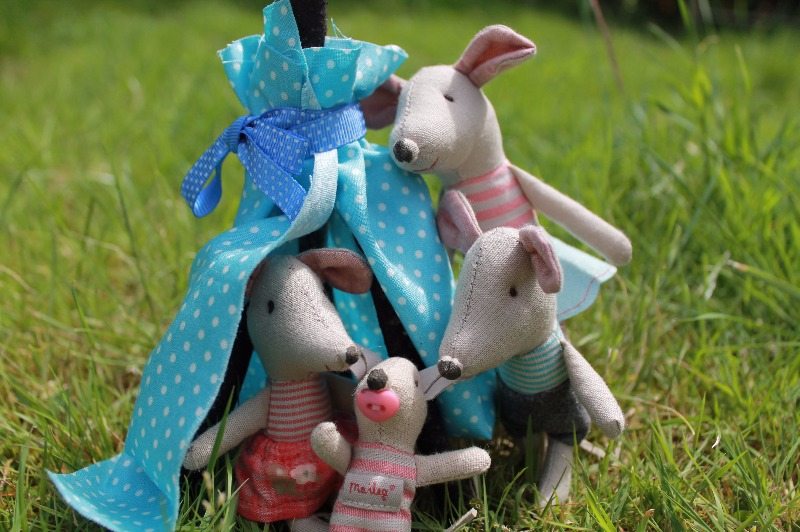 She has made this little tent to keep out of the sun, the only problem is now all the other mice want to join her. . . . . . . .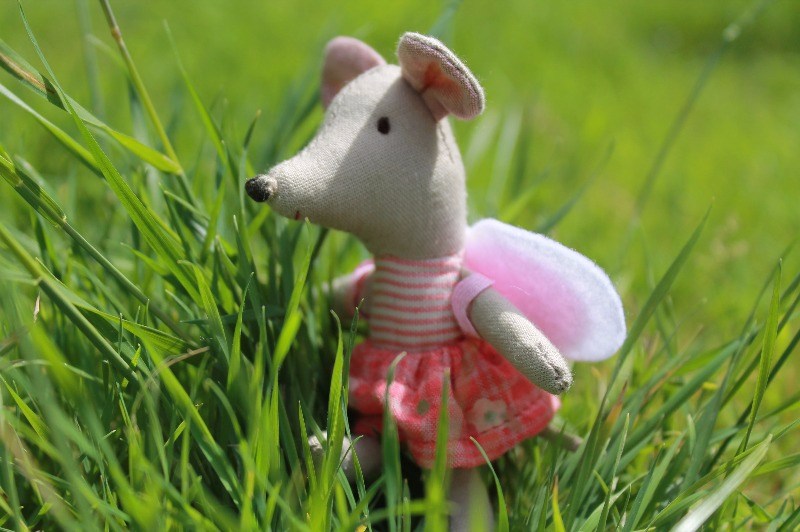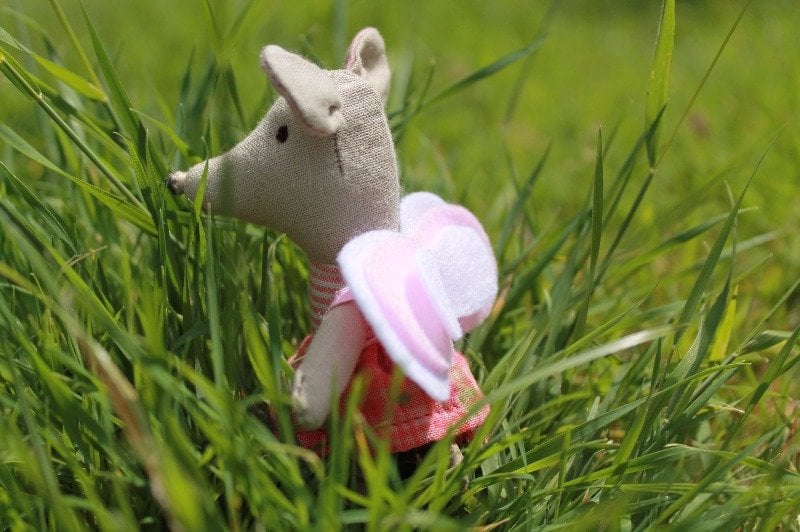 Deciding the tent was getting a little over crowded she decided to go on a hunt for fairies while wearing her new fairy wings (hmmm maybe these should go on hobby corner?)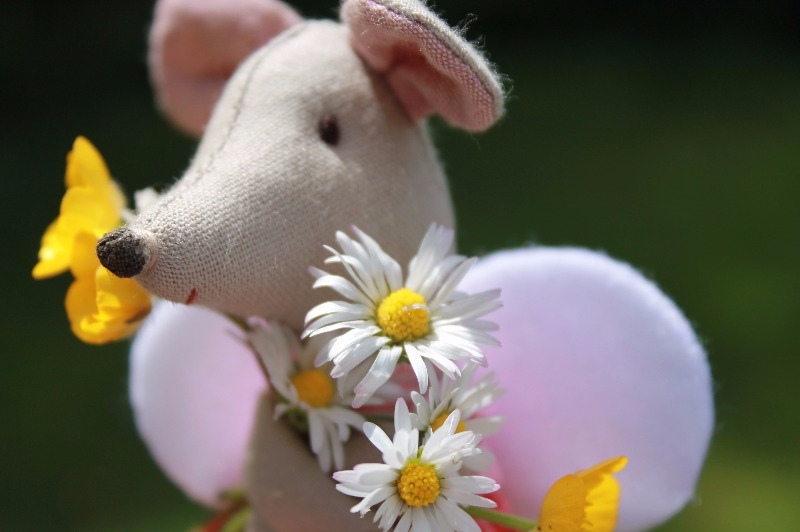 Sadly she was not lucky enough to find any fairies today - the hot weather must be too much for them? So she decided to pick Bluebell Rabbit some flowers to brighten up the burrow, but got a little carried away and can't hold them all !!!!
Overall it was another lovely day for Dotty here at the burrow, if you would like to WIN your own Dotty mouse or little brother mouse for your burrow all you need to do is hop on over to Bluebell's Facebook page and "Like the page", or her post regarding the competition - the lucky winner will be chosen on Friday 10th July
BBx
Friday 26th June 2015
Bluebell has been very busy the last few weeks since the Burrow went live, with lots of new friends arriving at the burrow, new litters of bunnies to look after and keeping an eye on all the mice family! She has lots of plans for the summer and is very excited to share ideas and projects on the "Hobby Corner" page.
To celebrate the launch of the burrow, Bluebell would like to offer a free little sister or little brother mouse both from Maileg to one lucky winner who "likes" her facebook page or "shares" or even "likes" the post announcing the competition (there is nothing to stop you doing all 3!!). Then send her a message that you have done this via the main website "contact us" page and note which mouse would most suit your burrow. Bluebell will then choose the winner at random on Friday 10th July.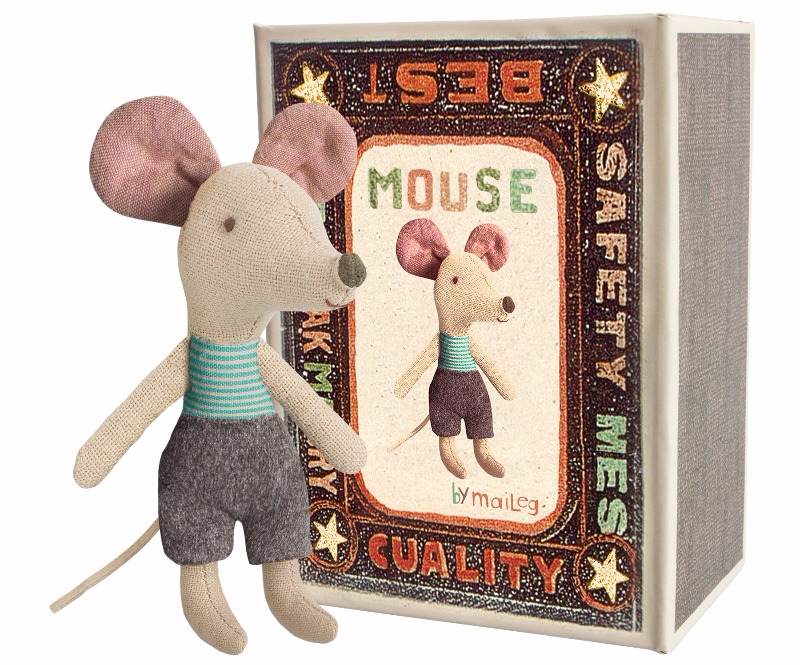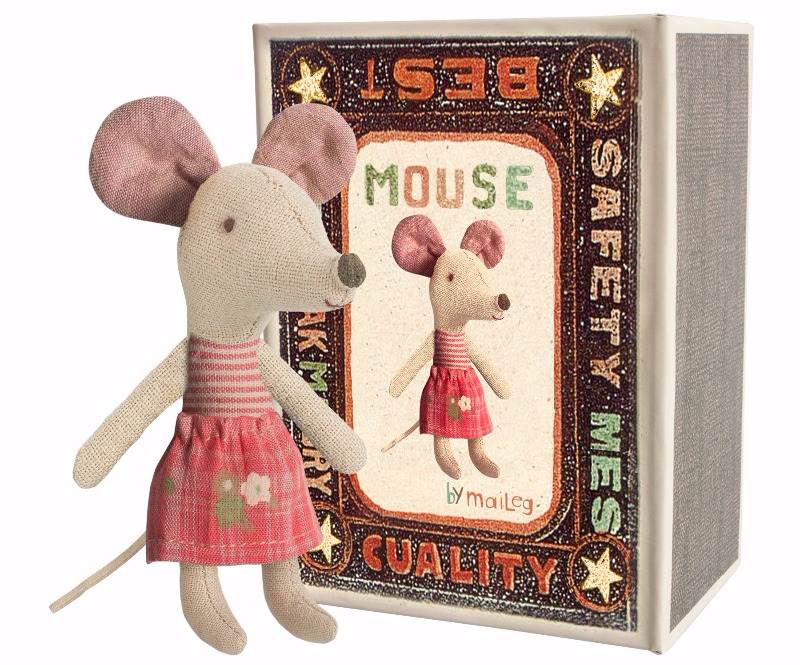 Good luck to you all
BBx
NB:The winner can decide which mouse is most suitable for their burrow! (little sister mouse or little brother mouse) both from Maileg.
Saturday 13th June 2015
Bluebell and all her friends here at the burrow have had such a lovely day even if the sun did not want to shine! Some new friends from "Attic" have come to join us.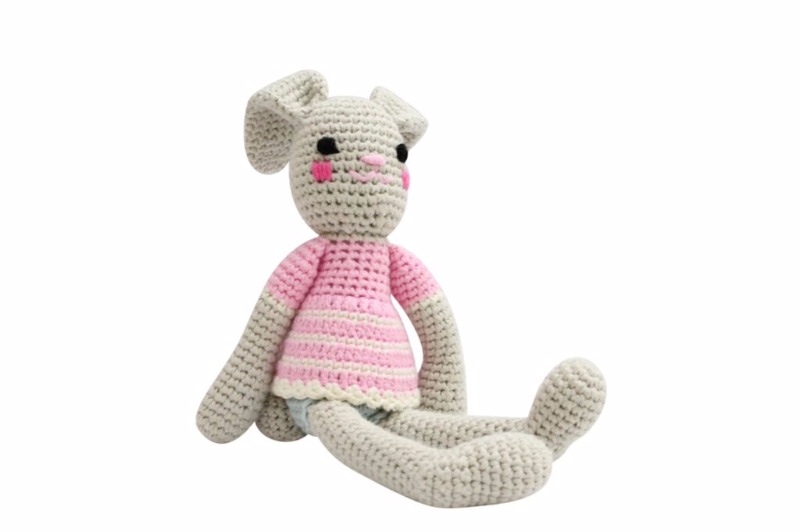 Pink bunny, Angel mouse, Ballerina mouse and Pirate mouse! They have enjoyed the welcome picnic put on by Bluebell and her friends and are now waiting for new homes.
As the burrow is new we are always on the look out for new friends to join us and hope to have one or two more ranges joining us later this year . . . .
BBX
Tuesday 9th June 2015
Bluebell has spent her first week trying to work out facebook and Twitter! They are both very new to her but she is learning lots. Have a look at her facebook page or twitter and "like" "follow" or "share" her posts! Both can be found on the links at the bottom of the page
We are also very excited that we will be getting a new line into the burrow shortly!! We don't want to tell you too much but it is something for the younger members of the burrow - will tell you more when they arrive!!!
Speak soon
BBx
Wednesday 3rd June
Welcome to Bluebell's Burrow
We are all very excited here at the burrow that the website is finally up and running!
Bluebell with the help from some of her mice and rabbit friends have carefully chosen what to stock at the burrow. We all hope you enjoy looking through the website and find something you love.
Bluebell and the mice are now working on some ideas to share on the Hobby Corner page - keep watching . . . .
We look forward to hearing from you soon on any thoughts you may have on Bluebells Burrow
Love
BBX