Hobby Corner
Saturday 8th April 2017
Easter Wreath - Very Cute and Easy!!
I saw this idea from Facebook:-
http://www.theresourcefulmama.com/easy-paper-easter-wreath/
and thought I would have a go with my 3-year-old. We had all the bits needed and we were both very motivated at first! I used old wrapping paper as we didn't have any nice Easter paper and then we glued it onto thin card. Unfortunately due to being too young to cut out the shapes my daughter got a little bord watching me cut up lots of Easter Eggs and ran away with half the Easter Eggs I had made!!! I should have done it with Little Sister Mouse, she has lots more patience . . . .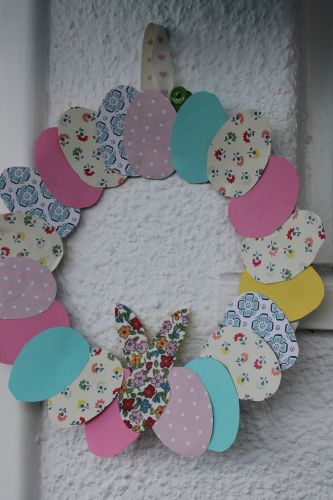 Once she came back she really enjoyed sticking them on the paper plate and finding a place to hang it in the house. Next time I would cut out the eggs before hand and use a larger egg shape so I don't need so many eggs!!
Visit the above website for instructions - it looks really cute in our porch at home and most people have bits of left over wrapping paper and a paper plate. You could just use coloured card and make your own patterns or leave them plain??
Happy Easter
BBxx
Friday 24th February 2017
Quick and Easy Book Making for your Stylish Mouse or Bunny!
I am currently working on decorating a wooden Maileg house for my own little bunny. It goes without saying I have used lots of Maileg's furniture but I have also been keen to make things myself. Somethings have worked out well, while others have not!
One thing I have been really pleased with is how quick and easy it was to make Hazel Village's books. If you have not seen their website have a look, I love how Lucy Owl shows you each step - very cute - https://hazelvillage.com/blogs/news/lucy-makes-books
After reading Lucy Owls blog, Dotty mouse thought she would just give it a go! Here are the results (she is quite pleased with herself!!) These two books took only 30 minutes to make once we found all the bits needed.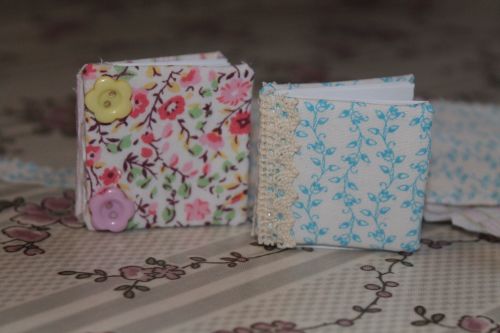 Helpful Suggestions:
Don't use cereal boxes for the card as the pattern on the card can be seen through either the fabric on the outside of the book or under the paper in the book - we made this mistake and then used some plain white card we had in the art box.

I love the idea of using spare buttons or lace to decorate the front of the books - I also like the idea of using ribbons to tie up the books.
We used a glue gun - this was quicker but mind your fingers
Do a couple of books at the same time, much more time efficient!.
NB: We hope to start selling more Hazel Village animals here at the burrow later this year.
BBxx
Wednesday 28th October
Trick or Treat (part two)
Treat - Yummy Doughnut with Icing and Sparkles
You will need for this activity:
You will need for this activity:-
Felt various colours - beige for the bun then your choice of icing

Sequins or any topping such as buttons, sparkles or make a cherry out of red felt.

Cotton and needle

Sharp scissors

Stuffing
Instructions:
Cut out two circles the same size, make them nice a big for your bun.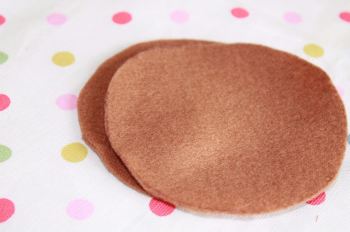 Sew the two circles together leaving a small gap to turn the material inside out hiding the hem.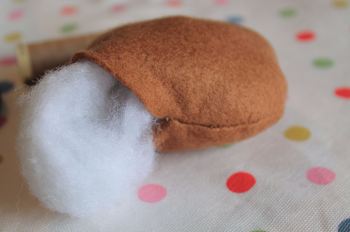 Fill your bun full with stuffing (use stuffing from unwanted pillows or cushions if you don't have stuffing)

Finish sewing the bun up.

Cut a large piece of coloured felt for your icing slightly larger than you need.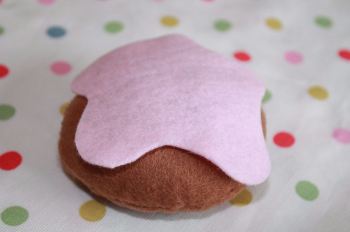 Then cut around the shape to make it look like icing dripping over your bun - DO NOT SEW ONTO YOUR BUN YET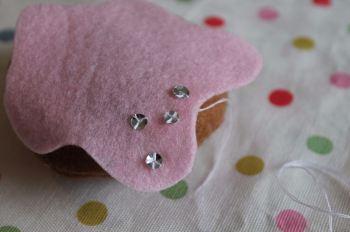 Sew on your toppings such as sequins.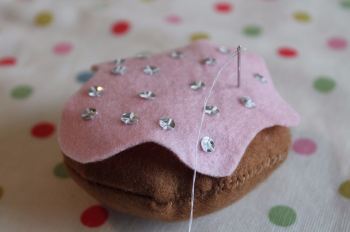 Then sew the icing onto the Bun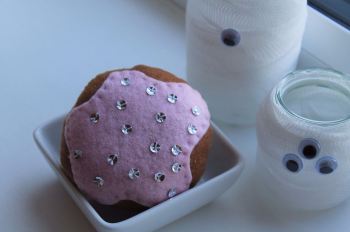 NB: Keep out of reach of young children due to small pieces.
You could make a few more ice buns or cakes for a Halloween party!
HAPPY HALLOWEEN FROM EVERYONE AT THE BURROW
Monday 26th October
Trick or Treat!
Trick - Mummy Jar with Tea Light
You will need for this activity:
Clean empty jar of various sizes
Bandages or white tissue paper
PVA glue
Stick on eyes
Tea light
Instructions
Use any size jar and clean it inside and take off the label on the outside.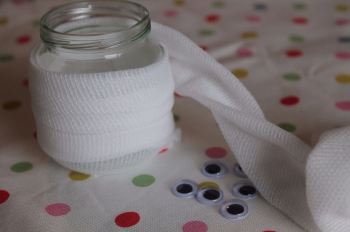 Starting from the bottom wrap a bandage around the jar ensuring all the jar is covered. Don't worry about being too neat. Tuck the end of the bandage into the wrapped bandage.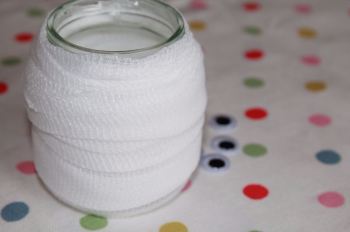 Or alternatively if you don't have bandages use PVA glue and stick tissue paper all over the jar.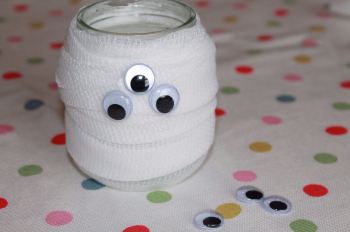 Using PVA glue, stick on one or more eyes to make it look even more spooky.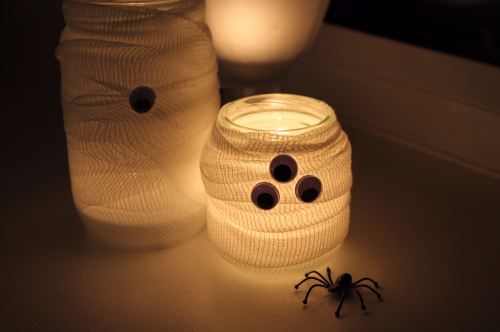 Ask an adult to light the tea light

Put a few jars together to give a really spooky effect this Halloween !!
NB: Please ensure the bandages are not near the tea light and always keep flames out of reach from young children, you could use battery operated candles.
Sunday 4th October
Ravioli Felt Pasta (Part Two)
What you will need for this activity:
Pasta coloured felt ie light yellow and greens etc

Cotton and thread

Fabric (zig zag) scissors

Stuffing (but could use filling from unwanted pillows or cushions?)
NB: Felt Pasta not suitable for under 3 year olds
Instructions
Cut a long thick strip of felt using the zig zag fabric scissors including the ends.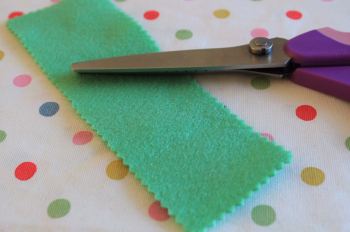 Snip off square pieces from your long strip.
Place two square pieces on top of each other and sew three of the sides together leaving enough space around the edges to trim.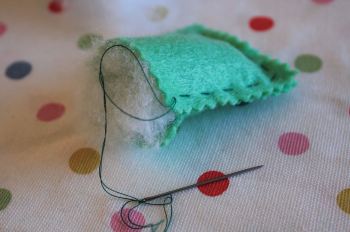 Stuff the ravioli nice and full and sew the last side up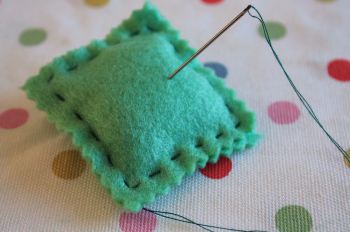 Trim edges to make them nice and neat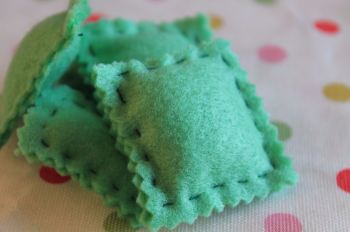 Repeat to ensure you have enough ravioli for a couple of meals (just in case you have friends around to play!)
BBx
Saturday 26th September
Felt Pasta (Part One) - Bows
As Bluebell and her friends did not do a Hobby Corner for August, here is a little extra for this month!
What you will need for this activity:
Pasta coloured felt ie light yellow and greens etc

Cotton and thread

Fabric (zig zag) scissors
NB: Felt Pasta not suitable for under 3 year olds
Instructions:
Cut a long thick strip of your chosen felt using the zig zag fabric scissors including the ends.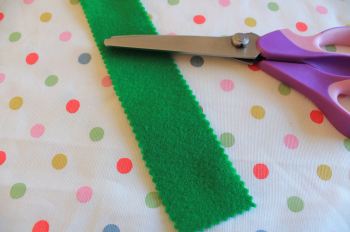 Snip off square pieces from your long strip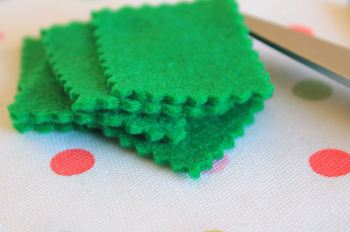 Gather the felt up along the widest part to make your bow shape.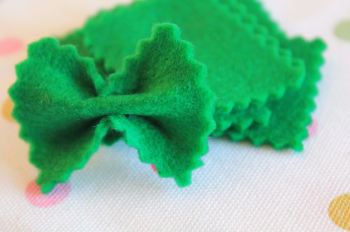 Sew a few stitches in the middle to hold tight.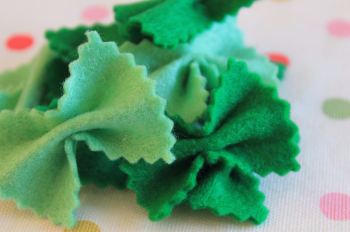 It's as easy as that!
These are really cheap and easy to make and would make a great gift in someone's stocking later this year, place some into a box and put a pretty ribbon around it.
BBx
Thursday 17th September
Bluebell's Tea Party "Tea Bags"
Bluebell and her friends love having tea parties, even in this weather - she just has them inside the burrow!
What you will need for this activity:
Coloured felt for tea bags

Cotton, thread, sharp scissors and fabric scissors.

Scraps of fabric or you could complete your tea bag all in felt

Short pieces of ribbon, or string.

Stuffing (could use old pillows/cushion fillings) or even cotton wool
NB: Felt tea bags not suitable for under 3 year olds.
Instructions:
Cut out two short rectangles of felt the same size (slightly bigger than you need as you can trim the edges at the end). You can use light green felt for peppermint tea, red felt for raspberry tea, yellow for camomile tea etc . . . .

Place the two pieces of felt on top of each other and snip the two top corners to make the classic tea bag shape.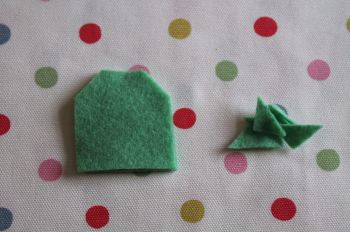 Cut a piece of ribbon and place this at the top of the tea bag. This needs to be long enough to hang over the side of your chosen tea cup.

Place one end of the ribbon inside the two pieces of felt at the top of the tea bag and sew around the edge of the tea bag a couple of mm from the edge leaving ample space to trim the edges at the end. Sew just over half way around the edge of the tea bag then fill with your choice of filling.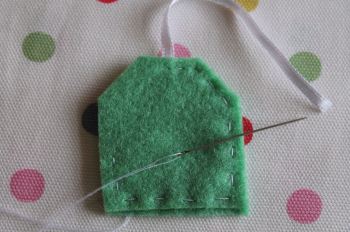 Then finish sewing your tea bag all the way around and trim edges if needed.

Cut out two smaller squares of fabric or use a different coloured felt. Use fabric cutting scissors if using fabric to reduce fraying.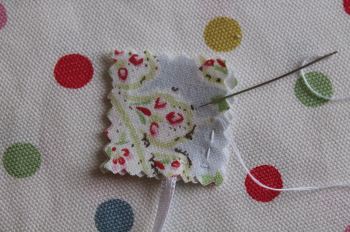 Place the other end of the ribbon inside the two pieces of fabric and sew all the way around the square ensuring the ribbon is sewn in securely.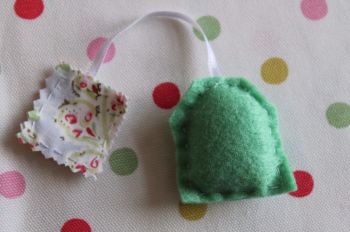 Now all you need to do is have A TEA PARTY! Invite all your toys . . . . .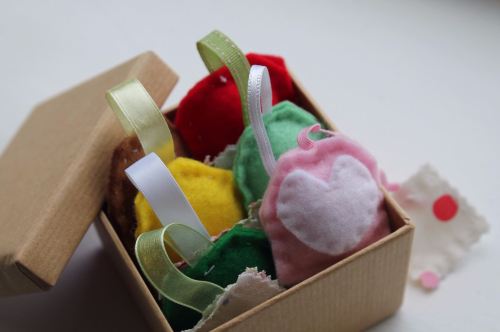 These make lovely stocking fillers or you can place a set of x4 or x6 in a box to make a cute little gift this Christmas.
Bluebell and her friends would love to hear how you get on making your own tea bags.
BBx
Saturday 12th September
Bluebell and Dotty are really sorry that they have not done any items for Hobby Corner for August, they have lots of ideas but have been too busy planning for Christmas and playing over the summer!! even though the weather was not very nice!!
Keep watching over the next few days for this months Hobby Corner, both Bluebell and Dotty are currently loving all things "felt" - its very easy to use and comes in lots of lovely bright colours . . .
Saturday 25th July 2015
Dotty's Felt Fairy Wings
Dotty (Maileg little sister mouse) is so excited to be doing her first "Hobby Corner" and chose to show you all how easy it is to make your mouse or toy its own fairy wings!
You will need for this activity:
Felt - ideally two colours
Mouse or toy you are making the fairy wings to hand for measuring
Instructions:
Draw out fairy wings on a piece of paper and place your mouse or toy on top to check for sizing.

Cut the fairy wings out on the piece of paper you have drawn, then use this as a template to draw around for the first fairy wings.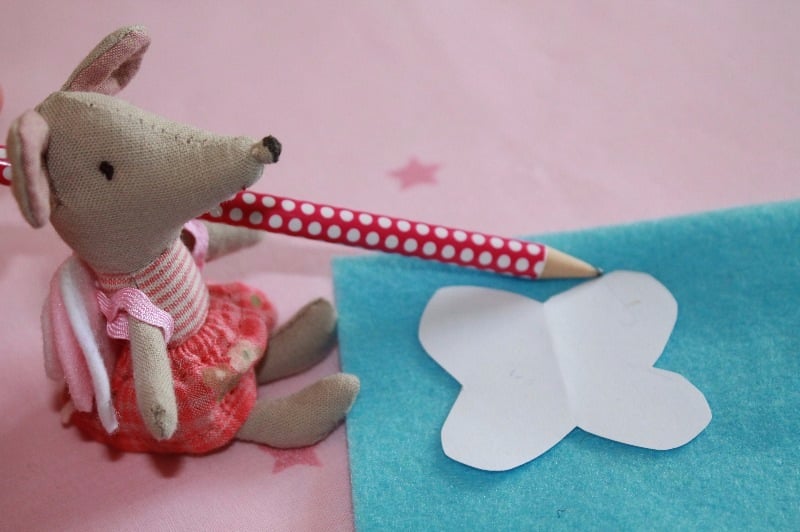 Once you have drawn

and cut out your first felt fairy wings, fold your template in half lengthways (piece of paper with fairy wings drawn on) and trim off a couple of centimeters from the fairy wing shape.

Again use this new smaller template to cut out a second set of fairy wings, if you would like a third layer of wings like "Dotty" has chosen to do then repeat the above or cut out a heart shape like Dotty.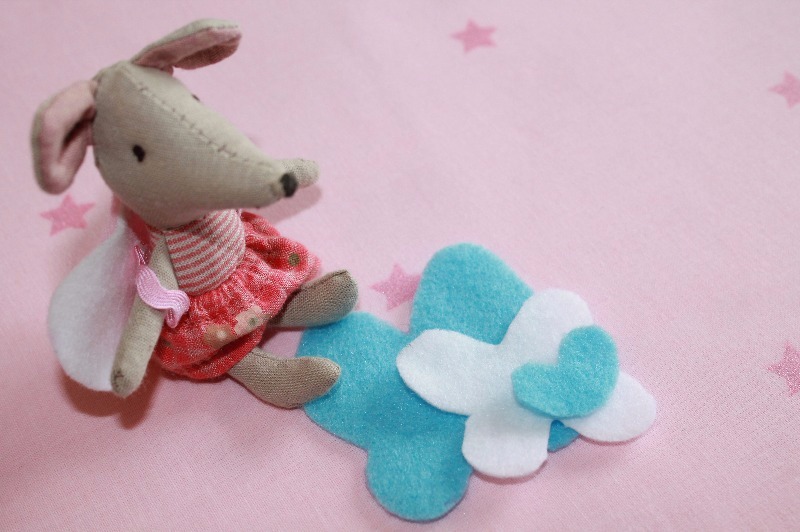 Sew the layers together making sure to only do a couple of stitches in the middle to ensure the wings can still move.

Turn the wings over and sew on some ribbon, measuring around your toys arms for length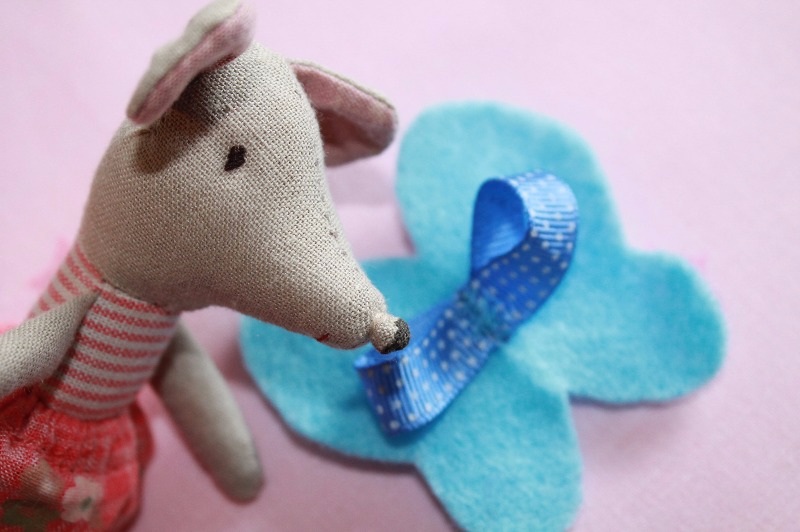 Add beads and sequins if you want a little sparkle!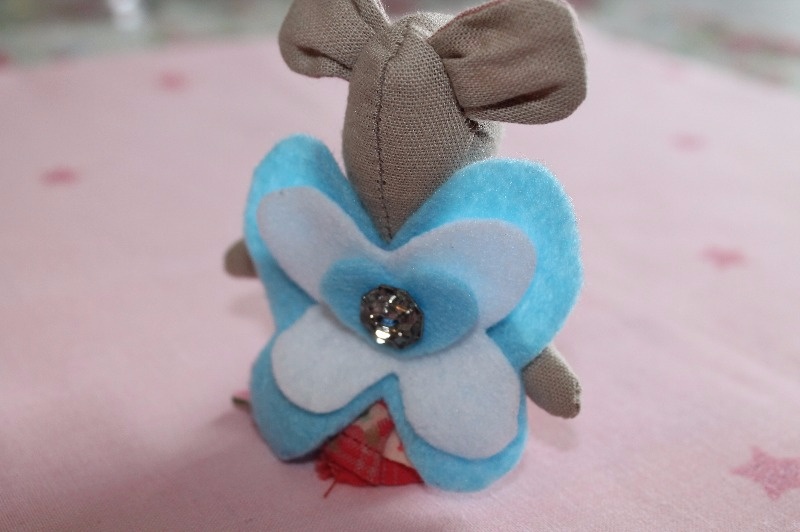 Sunday 21st June 2015
Bluebell's got a new headband!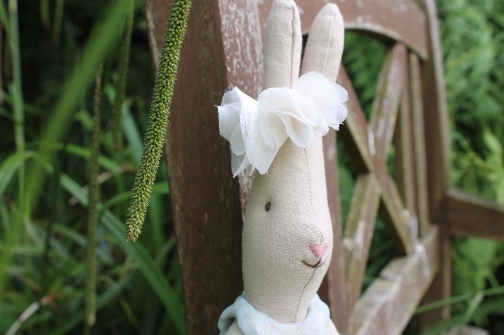 You will need adult help for this activity, as well as the following items;
Sharp scissors

Cotton and needle

Ribbon - Bluebell used 7mm wide on her own headband

Soft material - Bluebell used chiffon
Instructions:
Cut the ribbon to size leaving enough to sew the two ends together at the end, Bluebell has decided to have a headband around one of her ears.
Thread cotton onto your needle.

Cut out a moderately wide strip of material, enough to make x3 squares (approximately 5 cm wide). Cut the strip into 3 squares roughly.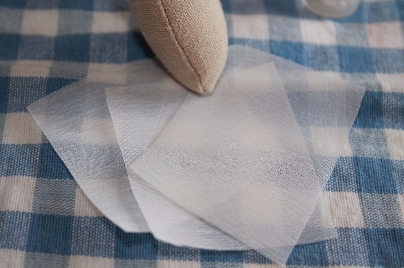 Then stack the x3 squares on top of each other, fold in half and half again and round off the material along the open two sides only

Open up your squares or rough circles and re-stack them on top of each other unevenly.

Scrunch up the three pieces of material making a flower shape and fold down onto the ribbon and sew directly onto ribbon making sure to sew through all layers.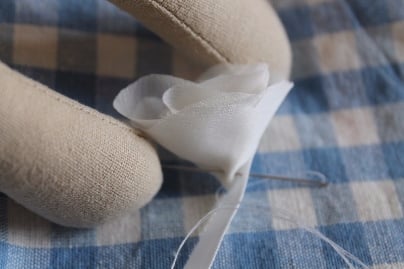 Repeat above again to make more flowers each time making the first strip of material slightly narrower to have different sized flowers - Bluebell only used 3 flowers for her headband today, you may need more if you are putting the headband all the way around your rabbit/dolly's head or if it is for you!
NB: if you are making the headband for yourself sew a small piece of elastic to the ends of your ribbon this will help to keep it secure on your head.
Wednesday 3rd June 2015
Welcome to "Hobby Corner"
Bluebell and some of the mice are always making something new here at the burrow and would love to share some ideas with you.
They are currently busy making something at the moment and will post it soon - keep watching . . . . . . .